Riding a light railway train, especially when it is equipped with a steam engine, is a unique experience. It's a fascinating technology and I like watching the locomotive being refueled with water and I always enjoy watching the steam hovering through the air and the surrounding trees. A good opportunity to do this is the Brockenbahn in the Harz mountains.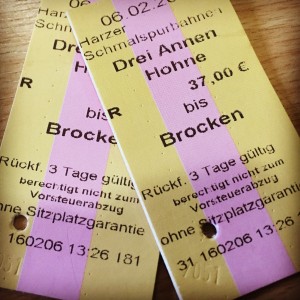 In fact the Harzer Schmalspurbahnen provide three tracks through the mountains: the Selketalbahn from Quedlinburg via Alexisbad to Eisfelder Talmühle, the Harzquerbahn from Nordhausen to Wernigerode and – the Brockenbahn from Wernigerode via Drei Annen Hohne and Schierke to the Brocken.
The most frequently used and most touristic track is the Brockenbahn to the 1141 meter high Brocken mountain. It is therefore also quite expensive: an adult pays 37 euros for a return ticket (children under six years travel free). But it is worth the trip! As a child I always enjoyed standing the whole way up on the platform between two carriages and look at the landscape.
This time we chose to take the train from Drei Annen Hohne, because you can park your car easily there and it is only an one hour ride up to the mountain top. Remember that there is no guarantee for a seat – the carriages are heated quite well in winter times but standing for more than an hour wouldn't be a pleasure.
Harzer Schmalspurbahnen
Friedrichstraße 151
38855 Wernigerode
Germany
Loading map...