Haifa hasn't many sights and the towns landmark belongs to a religion I have never heard before: the Bahá'í. It originates from Iran where the members were prosecuted for turning away from Islam. In Haifa you can't overlook a temple situated on the foothills of Mount Carmel: the shrine of the Báb – dedicated to the founder of the religion.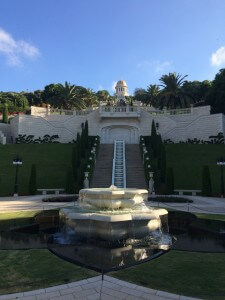 The shrine is surrounded by huge hanging persian gardens. It includes the grave of the Báb who has been killed in 1850 in the northern east of Iran and has been brought by followers to Palestine. Building the shrine lasted from 1909 to 1953.
At the upper end of the gardens there are religious schools, a centre for studying the texts and archives. The shrine is on the UNESCO world heritage list since 2008. Visiting the gardens is only possible on guided tours but you can always visit the shrine in absolute silence (and after taking your shoes off).
Loading map...