It is said that in Jerusalem they pray, in Tel Aviv they live and in Haifa they work. And if you look at Haifa you absolutely agree: it is nicely fitted onto the foothills of Mount Carmel, but it hasn't much sights worth visiting. It reminded me much on La Spezia in Italy. And don't walk throughout the city to find a city center or old town – there isn't one that deserves that name.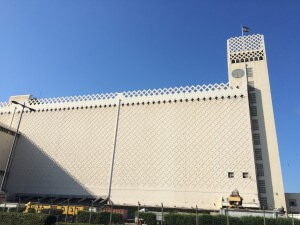 Haifa was first named in the 3rd century CE, as a place where ships were built. It was conquered by the crusaders, Kaiser Wilhelm the 2nd visited the town and the British connected it later with a railway track via Gaza to Egypt. Today the most impressive building within the town is the Dagon silo which can hold up to 100.000 tons of grain. The 68 meters high building dominates the skyline as much as the cargo harbour does.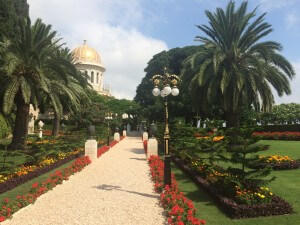 The only real sight of Haifa are the Persian gardens with the tomb of Báb and the shrine of the Bahá'í, a Persian religous group that buried their chief here. This place has become the town's landmark of Haifa. The sight became UNESCO world cultural heritage in 2008.
If you're in need for a beer or a snack, visit the road that starts at the lower end of the Persian gardens where you'll also find the German colony (Christians from Württemberg arrived here in 1868). The road leads down to the harbour and on both sides there are bars and restaurants.
Loading map...