If you're going southbound from Rio de Janeiro city center you come to a part of Rio called Lapa – a district which you might visit especially for nightlife. If you do so you should better take a taxi. If you come by daylight, you can see a really nice aqueduct: the Arcos da Lapa.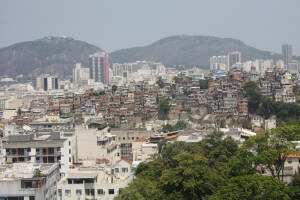 Originally built in the 18th century to get water from river Carioca to the center of Rio, it was later used as a railway track for the bonde to Santa Teresa; a nice part of Rio situated on the hill. After an accident in 2011 the railway was shut down and hasn't been reopened at the time of writing this. The 42 arches of the aqueduct are 64 meters high.
As there is no bonde running prepare yourself for a steep and long lasting hike up the hill. You definitely have to see the Escadaria Selarón and some meters higher you can visite the Parque das Ruinas where you have at least a beautiful view over Rio de Janeiro.
Loading map...