What is not obvious while walking through Budapest, Hungary is the fact, that it is a spa town. There are over 100 thermal springs producing water with a temperature between 21 and 78 degrees celsius. Therefore one definitly needs to try one of the spas; the most famous being the Gellért spa and the Széchenyi spa. And after walking around so much in this town this is always a great idea.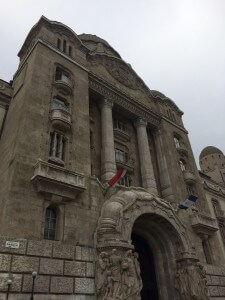 The Gellért spa is located close to the Danube river and the Liberty bridge (Szabadság híd). The entry to the spa is on the right side of the building – take a look at the door giving you a first hint of the art nouveau style of the bath. You can get a ticket inside at one of the booths close to the entrance. The building itself is somehow like a labyrinth, but you'll find your way.
The spa offers everything you need to relax: hot pools, a sauna and a swimming pool with artificial waves. But the most impressive is the indoor pool in art nouveau style surrounded by columns. It is like swimming in a cathedral – but beware, you need a bathing cap and the pool attendents will ensure you have one. No problem if you're not used to cover your hair while swimming (like me); you can get a bathing cap in a shop within the spa.
Gellért Gyógyfürdő és Uszoda
1118 Budapest
Kelenhegyi út 4
Hungary
Loading map...