The decision to visit Budapest, Hungary was nothing coming from the heart. I just couldn't remember of ever having been at Hungary. And it was easily reachable by train – using the Keleti pályaudvar / railway station. Everybody seems to have been in Budapest already. It is quite touristic and maybe famous as a place for lovers. I was unsure whether this was a good choice.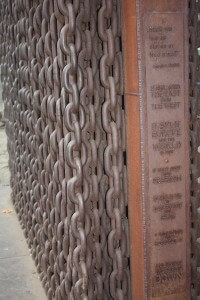 In Budapest I didn't book a hotel for the first time of my life – I rented an apartment. And this was truly a good idea. I had to plan more time for getting and leaving the keys but therefore I really had the feeling of living in the city – between citizens and not between tourists. My flat was maybe 700 meters away from the railway station in a non-touristic quarter and from my balcony I could watch normal life.
Being at Budapest meant walking quite a lot; I did an average of 30 kilometers per day. There is a very good public transport network but the subway lines where not ideal for me and I dislike taking busses when being abroad. But with castle hill, the freedom monument, the parliament, St. Stephan's church and the Great Synagogue – and the wonderful bridges crossing the river Danube there was really enough to discover on foot.
Being at Budapest shows you directly how few you know about Eastern Europe and its history and you learn about the many hot springs in the city – that's why I definitely had to go swimming here. And you are always reminded on the days of the Iron Curtain, rebellion and revolution. Most impressive to me was the Memento Park – a site where old statues from communist times are on display. It is like travelling back. Even though during my stay the sun never broke through the clouds, it was still worth travelling here.
Loading map...