The city of Valdivia in the south of Chile dates back to 1552. It is 15 kilometers away from the sea but is located at the crossing of three mighty rivers: Rio Cruces, Rio Callecalle and Rio Valdivia. This place has seen many important events in history; conflicts with the native Mapuche and between the Spanish and Chilean fleets. From 1846 on German settlers began to live here and added a lot to the city – even a German brewery.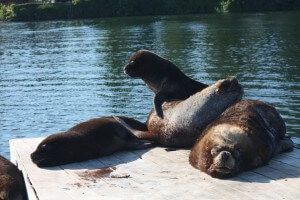 Most people start their visit at the fish market – because it is also the point where river cruises start. All along the rivers are wooden platforms where sea lions get out of the water and enjoy the sun; I could sit in front of one of those for hours.
As I am collecting coffee mugs from all around the world (a strange tradition, I know) I went into a shop close to the fish market. The only coffee mug available was there in three decorations: Salvador Allende, Augusto Pinochet and Justin Bieber. I can't image who made this line-up – but as I selected the democracy version under the eyes of the shop owner I instantly received a thumbs-up. 🙂
Loading map...