What do German settlers do first, when they arrive? They start a brewery. In Valdivia, Chile in 1846 the first settlers arrived and the Cerveceria Kunstmann was created instantly, promoting their beer in Chile under the claim "… das gute Bier". They brew traditional Lager and Bock beers, but also some Chilean specialties and rather experimental things like chocolate beer. Be brave but better keep your lips away from the honey (miel) beer.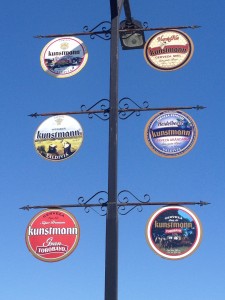 You can taste the beers from Kunstmann nearly everywhere in Valdivia. If you want to try all versions you should better select a bar close to your hotel. 😉 The brewery itself is south-west of the city and pretty far away; but it is worth the travel if you want to fetch some Chilean-German beer mugs for your home.
Cerveceria Kunstmann
Ruta T 350 950
Valdivia, Región de los Ríos
Chile
Loading map...