Gottfried August Bürger was a German poet who first studied law at the university of Göttingen. There his attention turned away fast from jurisprudence to literature and he became a writer. His most famous work is called Lenore and received attention even beyond German borders. Today the large street around the city center of Göttingen is named Bürgerstraße after him and a bust of him is standing next to. Probably most inhabitants believe that the street is named after themselves (Bürger means citizen in German).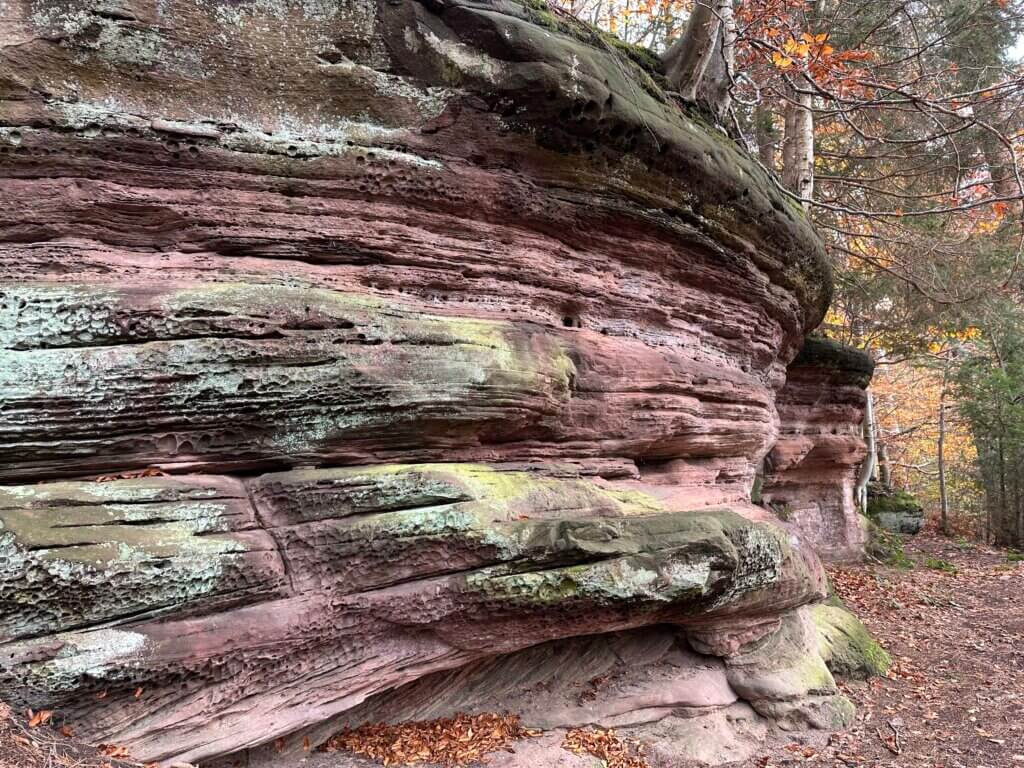 For some years Gottfried August Bürger was living at Gleichen close to Göttingen and he fell in love with his sister-in-law Auguste Leonhart whom he named Molly and he referenced her in different of his poems. To meet her in secret he used a short cave cut into sandstone close to the settlement Niedeck where her father was working. This 'grotto' is still there today and you can sit down on a sandstone bench, have a look on a portrait of Gottfried August Bürger and read his poem 'The lovesick' ('Der Liebkranke').
The Bürgergrotte is very close to a dairy farm called Traupes Milchhof (known from the German TV show Bauer sucht Frau). You can park there, buy some cheese from their vending machine and have a picnic at the Bürgergrotte. Alternatively you can go by bike to Benniehausen and do the steep ascent from a place close to the Negenborn spring. I also enjoyed going by bus from Göttingen to Groß Lengden, hike via the mountain to Niedeck and then return to Groß Lengden to catch the bus back home. It is an one hour hike from there.
In earlier days a narrow-gauge railway was connecting Göttingen with Duderstadt, the Gartetalbahn. Many students from Göttingen used it to get to the restaurant Waterloo close to Benniehausen and have some beers there. From there the Negenborn spring and the Bürgergrotte were easy to reach on foot. Unfortunately this railway doesn't exist anymore since 1957.
Bürgergrotte
Niedeck
Gleichen
Germany
Loading map...