The Museum der bildenden Künste (or short MdbK) is an art museum at the city centre of Leipzig, Germany. It already dates back to the year 1848 but only in 2004 it could move into its current location: a large cube with 10,000 square metres of exhibition space between old houses. It is one of the largest art museums in Germany and has a lot of exhibitions per year: when I was there they had a funny social media exhibition in the cellar and a great exhibition of impressionists. But the MdbK isn't a museum for contemporary art – it's a continuous mix. Since its foundation, it collected pictures and statues and has a fine collection starting in the late medieval times.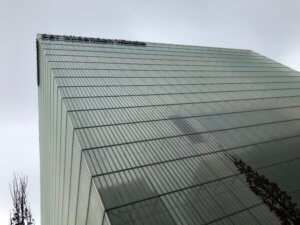 The museum itself feels like foreign matter. A Borg cube that has been placed in a backyard of the ancient town. Inhumane. Try to find the entrance. Fail to open a door. Walk up on giant and exhausting staircases. There are some things in this building that let you really question the intention of the architect. The slowest elevator in the world might be explained by the art installation within. But the lockers? This is a really spacious building but to lock up your stuff you need to squeeze into a tiny corridor. Try it out yourself – the art works shown within are worth the visit!
Museum der bildenden Künste (MdbK)
Katharinenstraße 10
04109 Leipzig
Germany
Loading map...