It sounds a bit strange but I really love to visit cemeteries. Sometimes they have a fantastic atmosphere like the Cimetière du Père Lachaise in Paris, France or the special local burial traditions are fascinating like at the Cementerio Cristóbal Colón in La Habana, Cuba. And often they are the starting point for interesting stories. The most beautiful graveyard of Dublin, Ireland is Glasnevin; here you can find a mix of all religions and the typical Irish combination of Catholic crosses and pagan symbols.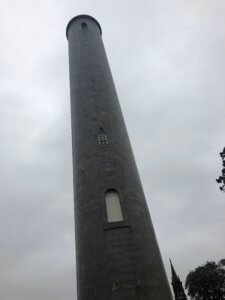 It is the biggest cemetery in Ireland and somehow the national cemetery. It was founded in 1832 on the initiative of Daniel O'Connell, one of the most important Irish politicians of the early 19th century. It is designed as a graveyard for all religions and none. O'Connell himself is buried underneath a giant tower – so large that it feels unreal.
Many other important persons are buried here, including Cathal Brugha, Charles Stewart Parnell, and Éamon de Valera. You will find a street for each of them in the city centre. The cemetery has a drainage system to direct the water to the river and it is also surrounded by high walls: this is because of the universities of the city being in need of corpses for being able to teach anatomy. Steeling recently buried bodies from graves became a business.
Close to the entrance you can also find a small museum and a coffee bar. You need to buy a ticket to visit the museum (which costs too much in comparison to the size of the museum) but you can also get a combined ticket to also climb the O'Connell tower.
Glasnevin cemetery & museum
Finglas Road Glasnevin
Dublin / Baile Átha Cliath
Ireland / Éire
Loading map...