Ten kilometers afar of the city center of Chemnitz, Germany you can find a wonderful castle surrounded by water – the Wasserschloß Klaffenbach. It was built between 1555 and 1560 in renaissance style and you can pass the moat on a stone bridge. In addition to the round lake the castle is standing in some V-shaped buildings are attached that today house a restaurant and a hotel. This place is nowadays often used for concerts of various music styles.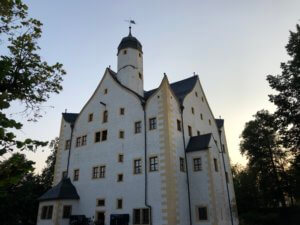 I came here for a concert of Madsen, an indierock band from the Wendland. The stage was set-up in front of the castle so it was not possible to see much of it. But it was a very good concert location with very good infrastructure and a charming atmosphere. Most visitors seem to come here by car and there are many parking lots available. But there is also tramway C11 connecting the castle with the city center and the main railway station – this takes about 30 minutes.
In the evening hours this tramway goes every hour and even the first tram after the concert had enough space to transport everybody who wanted to get in. If you want to have a more relaxed end of the concert you can book-in at the hotel next to the castle – they sell interesting event packages. I stayed at the hotel Biendo at the city center and was happy with that: the tramway C11 stops directly in front of it.
Wasserschloß Klaffenbach
Wasserschloßweg 6
09123 Chemnitz
Germany
Loading map...