The Landesmuseum Hannover is a special museum located between the Sprengel-Museum and the Neues Rathaus of Hannover, Germany. It calls itself 'WeltenMuseum' because it shows different separate worlds: nature, mankind and art. The building in renaissance revival architecture style was built in 1902.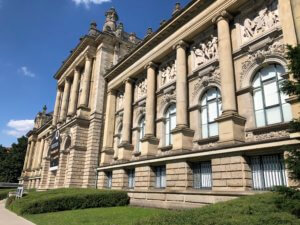 In the basement you can find the natural history section which is the most important one for kids. You can learn about dinosaurs, fossils and see fishes of different habitats in a small aquarium. The world dedicated to humans on the first floor shows archaeological collections and ethnological artifacts.
The last part concerning art begins with a vast collection of religious art and afterwards presents works of artists like Rembrandt, Rubens, Max Liebermann, Lovis Corinth, Paula Modersohn-Becker and Caspar David Friedrich. There is also a coin collection and enough space for important changing exhibitions. On the ground floor and within the inner yard you will find a nice coffee bar that you can also visit without paying the entrance fee for the museum.
Landesmuseum Hannover
Willy-Brandt-Allee 5
30169 Hannover
Germany
https://www.landesmuseum-hannover.de
Loading map...