Whenever I'm standing on my balcony I can feel a little bit like in Egypt. On the horizon, somewhere at the city quarter Niederzwehren of Kassel, Germany I can spot a pyramid. But it isn't the grave of a Hessian landgrave and it isn't a pyramid – it is in fact a catholic church.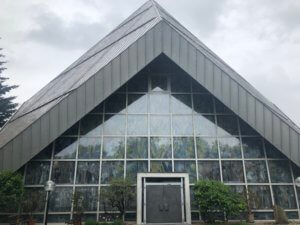 The Herz-Jesu-Kirche has a very special shape that looks totally different when you're standing in front of it. The walls contain giant glass windows with scenes from the bible. Unfortunately it is not accessible outside of religious services.
Herz-Jesu-Kirche
Brüder-Grimm-Straße 121
34134 Kassel
Germany
Loading map...