The contrast couldn't be bigger: Germany is a country where people love to pay with cash – Sweden is a country that consistently gets rid of cash and card payments are possible nearly everywhere. One could discuss the effects on society if cash payments aren't possible anymore – and there are positive and negative ones – but what does this situation mean for a traveler?
I experienced the possibility to pay by card nearly everywhere as very convenient: very often if you only have to pay a small amount (up to 25 Euros) you can simply hold your credit card in front of a terminal and pay wirelessly – if you already have been provided with a wireless-enabled card by your bank. But I also didn't want to go completely without cash in my pocket – because there still might be one sight that doesn't except cards.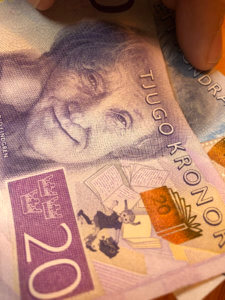 It is a very rare occasion but I saw this when using a tourist train: a family had to leave the train again because only cash was accepted. As the next train was going three hours later they had to completely reschedule. And then there was a second thing we needed to pay in cash: the final cleaning of our away home. But that is something you know in advance.
I just got the amount for the final cleaning and a small surplus at the beginning of the tour – and that's easily possible from an ATM. Paying seems to be possible with Maestro and VPay enabled bank cards but I wouldn't travel without a credit card. Don't miss to take some cash as a souvenir back home – the 29 kronor bill shows a hero from childhood.
Loading map...