In 1887 the British writer Sir Arthur Conan Doyle published the novel "A Study in Scarlet" – and with this he created the artificial character Sherlock Holmes, the greatest detective of all times; living in London, United Kingdom. Within 56 short stories and four novels he shows his kind of investigation: detailed observation and strictly logical deduction.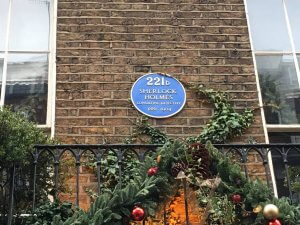 Within the stories Sherlock Holmes lives in 221b Baker street – an address that was non-existing during the time of writing the stories (the highest number was 85). The road has been extended afterwards and today the fictive home of Sherlock Holmes is existing – it is a museum showing everything about his adventures. In front of the nearby subway station Baker street there is also a huge figure of Sherlock – often used for photos.
Sherlock Holmes Museum
221b Baker Street
Marylebone, London
England, United Kingdom
http://www.sherlock-holmes.co.uk
Loading map...