Kraków, Poland is a wonderful medieval city that survived the centuries without being destroyed or harmed. That is why it has a very unique atmosphere and style. It was until 1596 the capital of the kingdom of Poland and most Polish kings are buried within the cathedral of Kraków. Here you'll also find the second-oldest university in northern Europe directly after Praha, Czech Republic.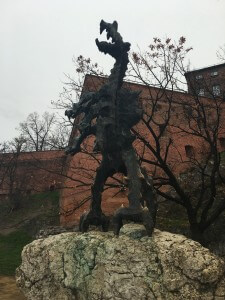 The two most important sites of Kraków are in walking distance: the main square Rynek Glówny which is one of the biggest market places in Europe. Here you'll find the impressive Bazylika Mariacka. And second the wawel hill with a fortification being the residence of the Polish kings and the cathedral of Kraków.
If you walk around the Wawel you can enjoy views on river Wisła (especially at night time) and you will find a cave under the fortress with a dragon statue in front of it. The legend says that once a dragon lived there and he was appeased by being fed with the virgins of the city. As all virgins but the kings daughter were gone the king asked to slain the dragon – and whoever would succeed would be given the hand of his daughter.
As nobody was successful once a young cobbler apprentice tried his luck and prepared an artificial sheep filled with sulfur and pepper. When the dragon ate the sheep he had to drink a lot of water from the nearby river Wisła – until he finally exploded.
Loading map...