The Musée d'Orsay is an art museum in Paris, France. It is located within the old train station Gare d'Orsay close to the Seine, within the 7th arrondissement. The railway station – built for the World Exhibition in 1900 – was transformed into a museum in 1977 by order of the French president Valéry Giscard d'Estaing.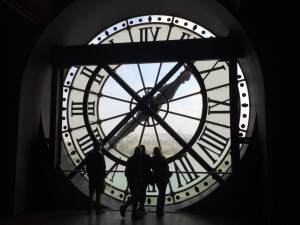 Within the main hall of the museum everybody also seems to be busy like at a railway station. At the sides on the ground level and first floor you'll find compartments for different art styles. You can cross the main hall on second floor, walk up to a viewing terrace and enjoy the architecture of the building.
The museum houses lots of statues and furniture, but most important: a good collection of paintings. On 5th floor there is a gallery only for impressionism, on 1st floor there is a room for neo-impressionistic art. The whole museum has to be seen as a piece of art.
1 Rue de la Légion d'Honneur
75007 Paris
France
Loading map...