Bratislava has a good bus and tram system that is quite easy to use if you once understood how to read the complex system maps. I didn't use the tramway, mainly because at the time of my visit the trams didn't run to the main railway station because of reconstruction works. But the busses and trams seem to be of good quality.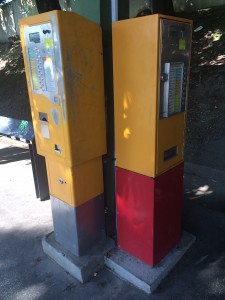 You can buy tickets at ticket vending machines or at newspaper kiosks. The ticket vending machines are labeled in Slovakian, English and German but seem to take only coins up to a value of one Euro. Therefore most often going to a kiosk is the better option. The choice you have is between a 15 minute and a 60 minute ticket – if it takes longer to reach your destination you have to buy additional tickets. The one hour ticket is 90 cents and is at most times the best choice. Tickets have to be invalided directly after entering a vehicle.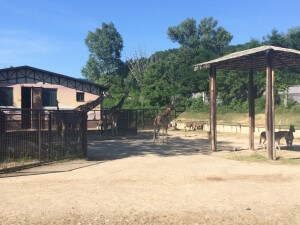 The main sights of Bratislava can be reached on foot. Taking the bus is mostly necessary for reaching Devín (and its beautiful old castle) or for going to the zoo, which is in the east behind a mountain. It is close to a motorway and you should not walk here. Maybe it is because of the consistent noise of the cars or because of the sometimes inappropriate compounds – the animals show unnatural behavior. There are not too many species but a lot of advertisement. That is why I only recommend going there if you have to kill time and are travelling with children. In that case take bus 30, 31 or 32 from the main railway station.
Loading map...