Close to Bratislava you can find a mountain range called the little Carpathians (Malé Karpaty) – a mountanous area filled with woods and grapevines. If you are comeing from Devín castle you can go northbound to Pernek and cross the Carpathians on a curvaceous road to Pezinok.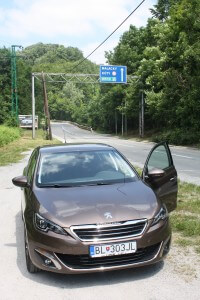 After having crossed the Carpathians you can go further north to a small town called Častá. Close to this place is a well known castle – Červený Kameň (Bibersburg). It served different masters, also the Fuggers who stored ore from Hungary here. The last owner was Nikolaus Pálffy, whose family has a very special coat of arms: a stag on a wheel. It is said that a member of the family was on travel with a horse buggy when a stag jumped in the way and blocked the wheel. Only few meters further was an invisible abyss.
The castle itself is quite nice, has a very large cool cellar and you can watch interesting domestic animals in the surroundings. A good stop if you need a break from Bratislava.
Loading map...