Wolfsburg, Germany is a town in lower saxony founded officially as the Stadt des 'Kraft durch Freude'-Wagens nahe Fallersleben for only one purpose: building cars. Volkswagen, the partly state-owned enterprise tries to make the city more worth living and has therefore built the Volkswagen Arena, home to the (Volkswagen supported) Verein für Leibesübungen Wolfsburg.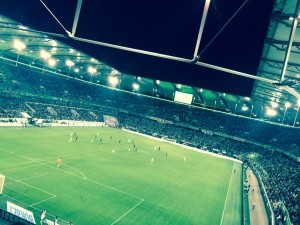 If the club plays well the 30.000 seats might be sold-out, if not, Volkswagen hands over free tickets to their workers of the nearby factory. If you arrive by train you'll have to walk eastbound along the tracks and cross them via a bridge. If you're looking like a soccer fan, the employees of Volkswagen Autostadt (the first bridge on your way) might not let you pass. But the second one (behind the shopping mall) is open to the public.
Vokswagen Arena
In den Allerwiesen 1
38446 Wolfsburg
Germany
https://www.vfl-wolfsburg.de/info/arena.html
Loading map...