The Cathedral of Zagreb (Katedrala Uznesenja Blažene Djevice Marije i svetih Stjepana i Ladislava) on Kaptol hill is a must-see. You can start on the Ban and walk over the Dolac – if you turn to the right you'll first see the cathedral square and behind it the cathedral dedicated to Virgin Mary.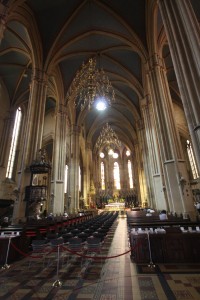 As the house is also dedicated to the kings Stephen and Ladislaus it is often referred to by the people of Zagreb as Stephen's Cathedral. It has been built between the 13th and 17th century CE but wars and earthquakes have made it necessary to continously repair and rebuilt parts of the cathedral.
The two towers of the cathedral belong to the highest buildings in the country and the cathedral is seen as national cultural heritage.
Loading map...