The natural sciences museum of Bruxelles dates back to the 18th century and is located near the Parc Léopold in the European quarter. With 38 million of items, it is one of the largest collections in Europe and the exposition area focusses on giving insight to the masses. Main topics are the human body, biodiversity in everyday life and mostly: dinosaurs. Yes, all the kids love them, and they seem to be the gateway drug into natural sciences.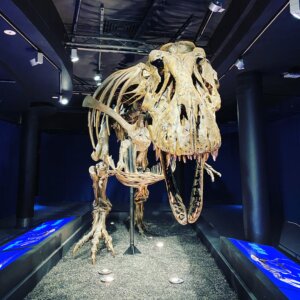 Therefore, you can have a look at the classic T-Rex, a Velociraptor, Triceratops and Iguanodons found in Belgium. It's good for children but sometimes only scratching the surface from the viewpoint of a former scientist. If it helps to create interest in science, I'm fine with that. The restaurant of the museum is called the Dino Bar and serving family-compatible food.
Muséum des sciences naturelles de Belgique
Rue Vautier 29
1000 Bruxelles
Belgium
https://www.naturalsciences.be
Loading map...