The KSV Hessen Kassel is a football club with a big history and a stadium (the Auestadion) rather fitting to the past than to the present. It was an obvious idea to watch a match but I simply didn't do it after moving to Kassel – shortly after I decided to buy a ticket, SARS-CoV-2 appeared and all matches were cancelled or no spectators were allowed. Now the large stadium becomes an advantage: people can watch matches during the pandemic safely while adhering to the distance rules. Against TSV Schott Mainz around 2,000 people (in a stadium for more than 18,000 persons) saw the first home game of the new season.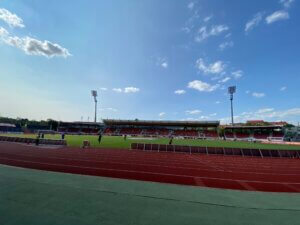 Everything was pretty normal with the exceptions that everyone had to wear a face mask (even during the match which is a bit annoying in summer with nice sunshine and for the long time of 90 minutes), that walking paths were clearly marked on the ground and that there were doormen in front of the toilets. All in all not too bad and an event I would and will definitely attend again. The first half was pretty poor football (ending with a 0:0 draw) – but the second half started fast with two goals scored by the KSV making the mascot Totti the lion go wild. The match ended with a score of 2:1 – the one goal for Schott Mainz was a Hessian gift and much too easily scored – I guess the plays were still celebrating the 2:0.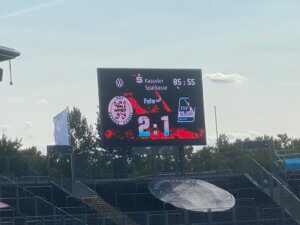 The KSV Hessen Kassel was first founded in 1947 and became well-known during the 80s: for eight years the club played in the second German league and was close to finding its way to the Bundesliga. In 1993 bankruptcy hit the club and it was replaced with the FC Hessen which had the same destiny in 1997. Therefore the KSV Hessen Kassel was re-founded in 1998 and slowly made its way up – today it is playing in the Regionalliga Südwest, the fourth-highest German league. Opponents are now clubs like FSV Frankfurt, FK Pirmasens, Offenbacher Kickers, SSV Ulm or the SG Sonnenhof Großaspach. The KSV plays in red and white and is referenced to as 'the lions'.
KSV Hessen Kassel
Auestadion
Frankfurter Str. 143
34121 Kassel
Germany
Loading map...