The children's railway is a hidden gem of Երևան, Armenia. It is a narrow-gauge railway for kids opened in 1937, and it was operated according to the standards of normal railways by the communist youth organization. You can find many of these children's railways throughout the influence sphere of the former Soviet Union. The goal was to create interest in railway employee jobs early – and I guess I would have had fun with that, too.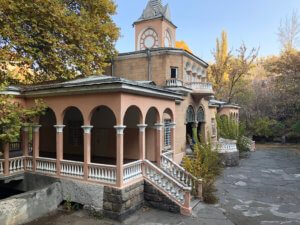 The children's railway runs through the gorge of river Hrazdan. It is 2.1 km long and 750 mm wide and includes through stations and a tunnel. When I was there in November it wasn't in operation but there was a fully functional train and a steam engine standing at the fantastic railway building from the year 1940. By looking at that building you can see that the children's railway was an important project. The building still today includes multi-coloured glass windows, playful staircases and a very decorative chandelier.
If you want to get there you can take a long pedestrian tunnel starting in the Missak Manouchian Park (crossed by the main avenue / Mesrop Mashtots Avenue) underneath the main post office. On the other side of the hill is an amusement park (walk to the left behind the tunnel) in which you have to walk some stairs down the hill. The station building and the tracks are next to the waters of the river – but you will see the station building very easily.
Children's railway
Մանկական երկաթուղի
130 Dzorapi Street
Երևան, Հայաստան
Yerevan, Armenia
Loading map...