One of the best places to enjoy the colourful sunset at Brighton, United Kingdom. The Brighton BeachClub is located directly on the Brighton city beach and close to the British Airways i360. It offers some seats in a glass house alike building (ensuring good views) and on a terrace surrounding the building.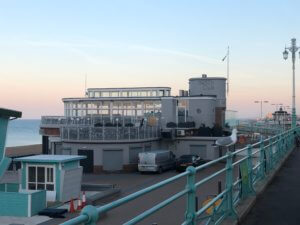 The restaurant offers classic British cuisine (the fish & chips were great) and a good drinks menu – including a fine list of cocktails, wines and craft beers.
Brighton BeachClub
26 Kings Road
Brighton BN1 2LN
England, United Kingdom
https://www.brightonbeachclub.com
Loading map...