I've been in Venezia, Italy multiple times but I was mostly enjoying the surroundings and the atmosphere in San Marco – I never entered buildings like the Palazzo Ducale, the main government building of the Republic of Venezia. And like every tourist I was taking a picture of the Ponte dei Sospiri, the enclosed bridge of sighs that connects the palace with the old prison – but I never thought that you could walk across it.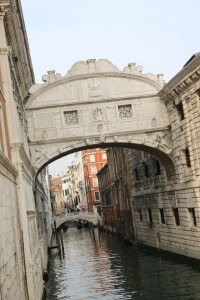 This time I decided to take the tour and it was absolutely worth it. It is a building in Venezian gothic style directly at the laguna and at San Marco. It dates back to 810 CE and is easily recognizable because of its numerous columns on two levels of the palace.
When you enter it, you can take a tour from the beautiful inner courtyard through the representational rooms of the republic and to the main assemby hall which had to have place for 2.700 members of the Supreme Court and the Doge – the head of the Republic of Venezia.
When you walk further on you can pass the Ponte dei Sospiri which is in fact split into two absolutely separated walks over to the prison which is in very good condition. You can see many cells with their metal doors; everything is very well preserved. This is also the place that the Italian adventurer and author Giacomo Casanova (the one with many love affairs) fled from and described his escape in the book Histoire de ma fuite des prisons de la République de Venise qu'on appelle les Plombs.
http://palazzoducale.visitmuve.it
Loading map...