I've seen some ethnologic museums around the world and most – let's face it, are quite boring. You only like them if you are an expert or a student in the specific field. But the Musée du quai Branly in Paris, France is really different. Behind a big glass wall separating the museum from the city, there is a huge garden with trees and green fields.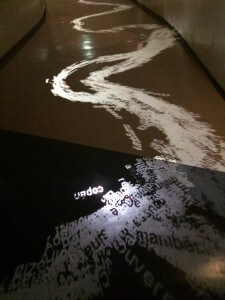 Within this unexpected scenery the museum is placed. It is a red futuristic building which is elevated some meters. Inside you have to walk up a big spiral on which an artificial river (consisting of words flowing down) is projected. Arriving at the top level you find a sparsely lit museum with an interesting light concept guiding the perception of the visitor on the exhibited objects.
The museum houses traditional objects (masks, figurines, clothing) of non-European nations around the world. African, Asian, American and Oceanic pieces of art flanked by audio installations and digital media. When I visited the museum there was a great special exhibition of tatoo art around the world.
37 Quai Branly
75007 Paris
France
Loading map...