One of the few sights away from the city center is the museum of contemporary art. To get there, you have to walk southbound, cross the railway tracks and the river Sava – and then you'll discover the difference between the European style city center and the place where people actually live.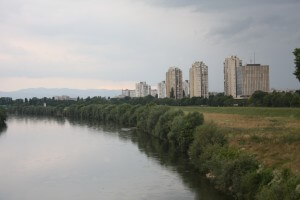 It is a straight 40 minutes walk from Glavni kolodvor to the Muzej suvremene umjetnosti in Zagreb, Croatia. If that's nothing for you (or of there is heavy rain like when I went there), you can take a streetcar. The museum is worth the effort. Within a modern building you can enjoy contemporary art – and if the wheather is good you can leave the museum by a slide going down from second floor. If it is bad, the shopping mall on the other side of the crossing might be a next good stop.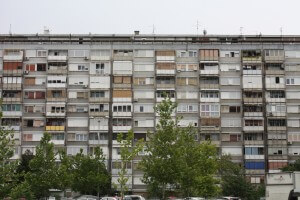 Fascinating to me was the focus on art of the former republic of Yugoslavia and the topic of ethnic conflicts on the Balkans. One work really caught me: a huge banner with a beautiful woman on it – and the words "No teeth…? A mustache…? Smel [sic!] like shit..? Bosnian girl!". After some first irritation I learned that these words were a graffito of a soldier of the Netherlands in Srebrenica – where the Dutch failed to protect the people. A good reason for travelling to Bosnia afterwards.
Avenija Dubrovnik 17
Zagreb, Croatia
Loading map...