In most parts the Panamericana seems to be a road running straight down to the south. Especially at the southern end of Chile this changes because of the natural conditions. Close to Puerto Montt, before entering the area with the main natural preserves of Chile, the Panam – here called Ruta 5 – cannot simply lead on. You'll need to cross the waters to Chiloé island by ferry boat.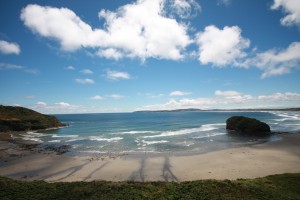 Doing so is a very good idea because Chiloé offers wonderful landscapes and beaches and is in most parts empty and relaxed. I've not seen many places in the world where you are standing in front of a beautiful beach – and there is nobody else.
The ferry boat to Chiloé is going pretty often as the Ruta 5 is a main transit route. Just queue up shortly behind the city of Pargua.
Loading map...