There is one thing everybody does when travelling to Dublin, Ireland: a visit to the Guinness Storehouse, the original place (St. James's Gate) where this special stout was invented and produced. It is not a museum nor a bar – it is a continuous event for the masses. The exhibition is organized to welcome many spectators and you're inside a neverending flow of persons that enjoy the edutainment served here: from the ingredients in the basis, over the production process to the roof bar where you get a beer with your ticket.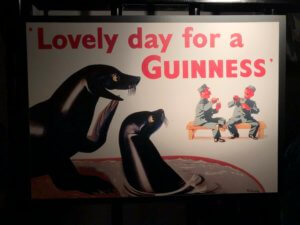 For sure there is also a giant fan shop selling endless Guinness-branded items. A speciality is the stoutie – your photo printed onto the foam of a stout. A funny idea! The Guinness Storehouse is the most-visited tourist attraction in Ireland. In this location, Arthur Guinness started in 1759 to brew the dark dry stout made of water, hops, malt extract, barley and brewer's yeast. The dark colour comes from a fraction of the barley that gets roasted. The way to bring the beer into a drinking glass is quite special in contrast to other beers: 30 per cent Carbon dioxide and 70 per cent Nitrogen are used – therefore the foam is more stable. Did you know that Guinness is vegan?
Another good question: does the logo of Guinness show the harp from the coat of arms of Ireland? Yes and no: it is the same one, but the Guinness harp is open to the right side – in the coat of arms it is the other way around. If you intend to visit the exhibition like all the others – book your tickets in advance online (with a specific timeframe) to avoid queues. You can even pre-order special additions like the stoutie or the characteristic drinking glasses with engravings.
Guinness Storehouse
Dublin / Baile Átha Cliath
Ireland / Éire

https://www.guinness-storehouse.com
Loading map...