The Aerodrom Podgorica is the small airport of the capital city of Montenegro. It is located 9 kilometers outside of Podgorica, Montenegro and can only be reached by taxi, rental car and an hourly running bus. But as the costs for a taxi ride to city are about 6 Euros this is pretty acceptable.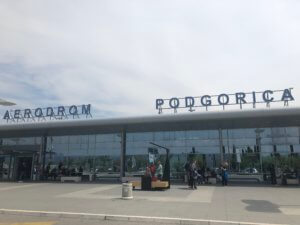 When you reach the airport you will find only one baggage drop-off area that is shared. The counter for your flight opens two hours prior to the flight and is clearly marked. Only one hour before boarding you're allowed to go to passport control which is followed by a quick security check. A hassle-free airport that still carries the airport TGD – as the city of Podgorica was named Titograd until 1992 to honor Josip Broz Tito, the former president of Yugoslavia.
Aerodrom Podgorica (TGD)
Аeродром Подгорица
Golubovci
Montenegro

https://www.montenegroairports.com/eng/
Loading map...